Ölüdeniz
is a beach resort in the Fethiye district of Muğla Province, on the Turquoise Coast of southwestern Turkey, at the conjunction point of the Aegean and Mediterranean seas. The beaches and sunshine are the principal reason that so many tourists choose to holiday in
Oludeniz
, with the protected Blue Lagoon (Tabiat Parki) adding to the overall appeal and offering a good choice of water sports and sandy stretches.
If you're looking for an easy-going day on the beach though, you can't really go wrong here. Similarly, if you've always wanted to throw yourself off a mountain,
Ölüdeniz
is one of
Turkey
's top destinations for tandem paragliding. Nearby is the starting point for the wonderful Lycian Way walking trail, which runs high above the fun and frolics.
Webcam Live Oludeniz
panoramic view over the the Ölüdeniz's landing field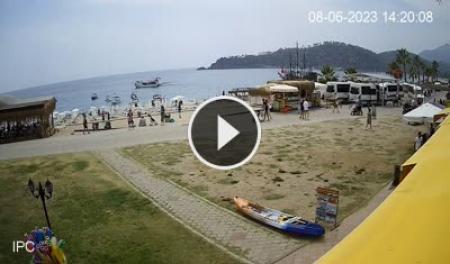 Play Video Live