Overlooking the marine reserve of the Ciclopi Islands, located in
Aci Trezza
on the Italy's island of
Sicily
, 13 km away from Fontanarossa Airport, the 3-stars
Hotel Eden Riviera
features air-conditioned rooms, an outdoor pool, car rental and free private parking, also, 24-hour front desk and a bar.
All
Eden Riviera Hotel
's rooms features a flat-screen TV and free Wi-Fi acces, safe, minibar and private bathroom with free toiletries, also, some rooms come with a balcony.
The
Cyclops Islands
in front of
Aci Trezza
have their mythical origins in the Odyssey. It was here that the one-eyed Cyclopes once lived, one of whom was Polyphemus, who was the son of the sea god Poseidon and who caught Odysseus and his companions and ate them one by one. Odysseus, however, succeeded in blinding the Cyclops and escaped. In anger the now-blind Polyphemus threw huge rocks at Odysseus who managed to escape into the sea without being struck. These Cyclopes rocks, the Isole dei Cyclopi, still rise in the sea in front of Aci Trezza and gave the entire coastal region its current name.
Webcam Live Aci Trezza
stunning view over the Cyclops's cliffs from Hotel Eden Riviera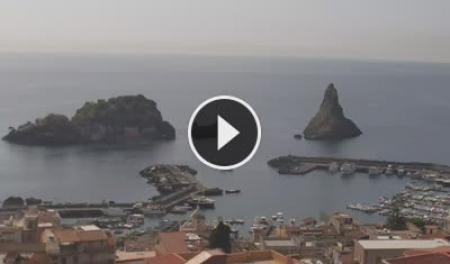 Play Video Live